Studio Life
The Covid pandemic has allowed us to re-eavaluate our working structures and practices.  We encourage all members of our team to take advantage of the benefits that home working can bring to work/life balance. We also want to make our studio a place that people feel comfortable, relaxed and safe within to encourage creative collaboration between our team and our colleagues.
Our studio base is in the centre of Manchester. We're within strolling distance of great arts and cultural venues; an amazing food, bar and club scene and sporting venues that are world famous.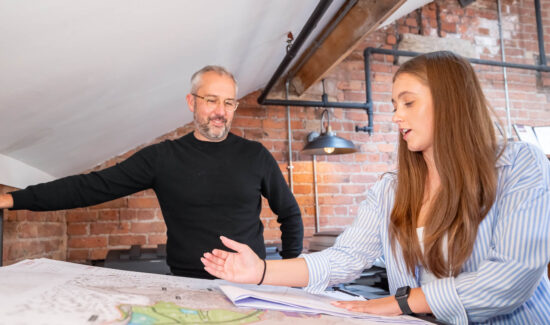 Manchester
Manchester is in the centre of everything the north west has to offer; great culture and entertainment, historic mill towns, stately homes, beautiful villages and some of the UK's most stunning landscapes, including the Peak District and Lake District National Parks.
Our studio
Our base is in a Grade II listed Victorian cotton mill in the heart of Ancoats Urban Village.
Since 1824, it's been home to a soap factory, the legendary Sankey's night club, a location for film and TV shoots and is now home to a thriving community of exciting businesses and entrepreneurs working from private offices and co-working space.
Ancoats Urban Village, home to a growing community of creative industries and independent retailers, is only five minutes walk from Piccadilly train station. We're surrounded by some of Manchester's best eating and drinking establishments (A Michelin starred restaurant one block away and the 'seventh best pizza restaurant in the world'(!) is just down the road).  Ancoats has been declared one of the top 50 coolest neighbourhoods in the world by Time Out magazine and we agree, its a great place to be!
It's a light, spacious, plant filled loft space with views over the city centre towards the Peak District. The pet friendly policy means there's often a dog or two running around to keep things lively.
Specialty teas, locally roasted coffee, soft drinks and fresh fruit are free to help your selves to. There's a kitchen area to prepare snacks and lunches (and even a tuck shop and [after work] beer and wine fridge).
We organise a full social calendar for the team (COVID restrictions allowing). This normally includes our summer team building away day, Christmas lunch and party, charity fundraising and a range of other events throughout the year (as well as regular Friday afternoon beer and wine).
Continuous Professional Development
We actively encourage and support our graduates through the Pathway to Chartership. Our graduates host regular study group sessions in our studio, and our team includes a number of Mentors, Supervisors and Examiners, who all provide support to our candidates.
CPD is a key part of life at Randall Thorp with mentoring and training opportunities for employees of all levels, whether its getting to grips with new graphics software, or management and leadership training.
Regular seminars are delivered by members of our team and external industry specialists, covering everything from specific technical products, to masterplanning Disneyland, natural play design and the inspiring landscapes of South America.
Benefits
We recognise the importance of our team being able to balance their personal and professional lives healthily.
We offer a wide range of benefits including: working from home, social events, insurance benefits, discretionary profit share, and flexible working hours.
Join the Randall Thorp team
We're always on the look out for creative people with a hunger to learn and make change. If you like the idea of joining our team let us know.